NorCal Dental Spa | Dentist Carmichael, CA
Partial Dentures
Removable partial dentures are composed of a metal framework with plastic teeth and gum areas. The framework includes metal clasps or other attachments, which hold the denture in place. Partial dentures are removed easily for cleaning.
Clasps are C-shaped, I-shaped, and Y-shaped parts of the denture framework that fit around neighboring natural teeth. These teeth may require shaping to help hold the clasps and keep the denture securely in place.
Precision Partials
Precision partial dentures are retained in the mouth by interlocking components. A specially shaped extension of the partial fits snugly into or onto a receiving area or projection of a natural tooth that has been crowned. This makes for anti-slip dentures that won't move or come out when you speak or chew.
Flexible Partial Dentures
Flexible partials are very comfortable. They are made from the latest technology in thermoplastic resins.
Depending upon your condition, flexible partials may be all thermoplastic or they may be combined with Vitallium bio-compatible metal for increased strength.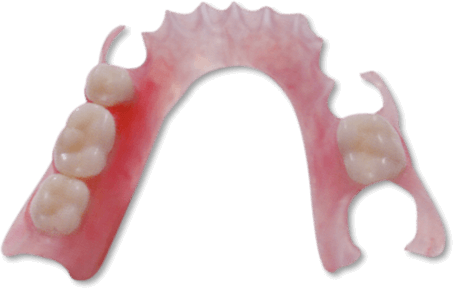 Temporary Partials
Temporary or interim appliances serve many useful purposes and are often an integral part of a prosthetic treatment plan. These appliances can be designed to be either fixed or removable. This simple appliance is excellent for temporary replacement of front teeth while the patient is waiting for a permanent bridge, a partial, or implants. This removable interim bridge is made of a clear vacuum-formed material. The appliance simply snaps into place.
How Much Do Partial Dentures Cost?
Generally speaking, partial dentures are extremely affordable and cost less than other forms of tooth replacement such as a dental implant. However, the benefits and better quality of life dental implants bring is something most patients choose when replacing their teeth.
The actual cost of a partial denture depends on your specific needs and materials used. The best way to receive an accurate quote on a partial denture is to request an appointment or call us at (916) 863-1854 and come in to be evaluated. All it takes is a single visit so come see us soon!